About Casa Basa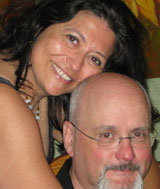 Casa Basa includes my husband Neil Basa, and our creative business, Casa Basa, located in the San Francisco Bay Area in California, USA.
Neil Basa is the stage name for my husband. He plays the clarinet in Polkacide and is an amazing artist. Generally, design work is his forté.
Casa Basa creates web sites, offers individual and group lessons in the use of computers and software, and offers online advice for those new to the Internet and interested in exploring its possibilities. Fees range from $50-$165/hour, largely based on context. Two pro bono web sites are adopted yearly for a one-year period.