My Mission
I am a web instructor providing individual and group instruction in computer applications, front end web design, development and html5/css3.
I offer a holistic approach to learning how to create your own website, offering just-in-time training for quick development.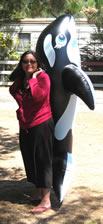 In 1997, I decided to get a masters degree in multimedia. The result is this web site and my current profession. I've collected useful information about software (Dreamweaver, Photoshop, Captivate), coding (HTML5, XHTML, CSS, Web Standards) and design (user-centered, creating personas, and the psychology of the web user). As I update my tutorials and recommendations, I will also add to my advice site, AskSharon.Info. This site is mainly for my students, to assist in their classes with me.

Your office or mine, hands-on assistance to help you get up and running with your computer and software. Specializing in those who need just a bit more patience. Contact me for more information: sharon@casabasa.com. Hourly rates upon request.